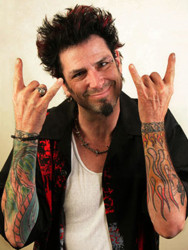 One of my absolute favorite (and yes, seriously. I'm so addicted to this show) shows to watch is Big Brother. I don't know exactly what it is about this show that has me so enthralled that I watch every. single. episode that airs each and every season, but there is just something that keeps me going.
And while the cast for the upcoming July premiere hasn't been announced yet, CBS has announced some various details about the season, as well as verified some rumors that have been milling around.
Unfortunately, Housecalls with Gretchen Massey has been cancelled. But in spite of this, I'm excited. Ladies and gentlemen, my absolute favorite cast member Janelle with be hosting (along with Evil Dick) a weekly webcast. I cannot wait.
ED has also spilled the beans that he'll be back on the RealPlayer Superpass live feeds so subscribers can catch his weekly webcast just like last year. As if you needed anymore encouragement to sign up for the live feeds and get the entire Big Brother 11 experience.
"CBS has revealed to us that Big Brother 11 will feature 12 houseguests! There had been a lot of speculation after Julie Chen informally announced there would be 10 houseguests. Thankfully that turned out to not be true or we'd lose a few precious weeks of BB11 fun."
The 11th season of "Big Brother" will premiere Thursday, July 9 at 8:00/7:00c on CBS, network sources confirmed to the site this afternoon.
The series will then continue on Sundays at 8:00/7:00c and Tuesdays at 9:00/8:00c, a slight deviation from last summer's initial schedule of Sundays at 8:00/7:00c, Tuesdays at 9:00/8:00c and Wednesdays at 8:00/7:00c.
I can't wait!
Topics: General | Comments Off on Big Brother Season 11 Gossip
Comments are closed.