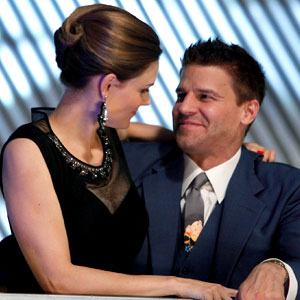 Hey! If you are reading this, beware. It may contain spoilers and that might make you cry. Just saying!
So who was the secret bride under the veil in the Desperate Housewives season finale? Any guesses?
A source close to the Desperate Housewivesset reveals that neither Teri Hatcher nor Dana Delany were actually at the altar. But hey– there was a secret clue that might give you an idea of who exactly it was:
Following the car accident in the season finale, where Susan and Mike (James Denton) embraced, the script read, "The family is reunited." Could that point to Susan being under the veil? What do you think? Who was under that veil?
And what about Weeds? What's the gossip on that show?
If anyone remembers Sucio from last season, you may be in for a treat. He's coming back. But don't get your hopes up– he won't be sticking around the entire season. Someone else is out to get Nancy, and Sucio falls victim to the first attack. Bummer! I really like him.
Speaking of Weeds, Guillermo will certainly be involved this season! (He was amazing in the season premiere, wasn't he?) While he is still in prison, he will be involved in this season, but to what extent, I'm not sure!
Nurse Jackie is taking off, and many people are tuning in. We got a glimpse into Jackie's marriage. It's crazy that she wants to hide it from her coworkers at the hospital and in order to do so, she takes her wedding band off before punching in. We also get to see the lengths she goes to to get and hide her drugs and oops, she accidentally doses coworker Mrs. Gloria Akalitus at the hospital.
Bones star Emily Deschanel weighs in on her character in Bones and her decision to have (or not have) children:
"I loved the fact that Brennan was adamant about not having children, because with so many female characters it's just a given that they want children, and I think that is a wonderful choice. I think its important to have people represented who have made the choice not to have children. But I also love and respect the fact that she's unpredictable, and she did make that decision that she wanted to have children. These characters are so unpredictable, they have contradictions, and that was one thing I loved from the beginning of the show."
I always love good television gossip! I'll have more for you tomorrow.
Topics: General | Comments Off on Desperate Housewives, Weeds, Nurse Jackie, and More!
Comments are closed.