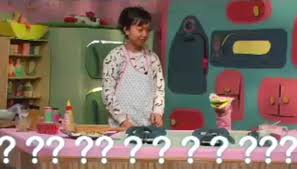 If you are a fan of online webisodes, you may have seen "Food Party" before. I personally have not had a chance to check it out, so when I was reading about the premiere of Food Party that airs tonight on IFC, I was definitely intrigued and curious to know what this show was all about.
As a major lover of the Food Network, I was wondering if it would be something more traditional along the lines of how to prepare certain recipes and what the special traits of the show are.
I headed right to the source: IFC. Here's what they had to say about this upcoming show:
"Food Party is a mind-bending, non-reality cooking show with Thu Tran as your hostess, a cast of unruly puppets as culinary aides, and a cavalcade of fictitious celebrities as surprise dinner guests. Shot on location in a Technicolor cardboard kitchen as well as other foreign and exotic cardboard locations, each episode will or will not instruct you on how to prepare wild gourmet multi-course meals with ingredients you probably have on hand in your kitchen already, such as pretzel rods, eggs, narwhal lungs, bizarre plot twists, secret ingredients, and pizza. After all, you never know who might show up for dinner."
Okay. So nothing like what I had in mind. Still curious, I hit my old reliable… YouTube.
So folks… I'm not going to lie. This just does not look like my cup of tea, and I'm honestly scratching my head. If anyone can get a show these days, may I be next? Please? I change a mean diaper and no one makes a bowl of cereal like me.
If you are still intrigued, check out the premiere tonight on IFC.
Topics: General | Comments Off on Food Party Premiere on IFC
Comments are closed.