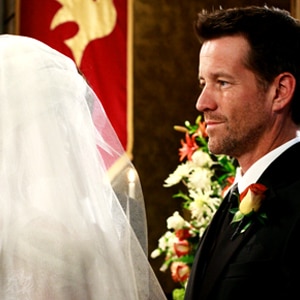 Readers, beware! The following post may contain spoilers about some of your favorite upcoming shows. Read at your own risk and hey, don't say I didn't warn you!
So what about those vampires in True Blood? Word on the street is that vampire Sophie (who is played by Evan Rachel Wood) is really a queen. "She is queen of Louisiana. She has dominion over the whole of Louisiana. [We're] really just finding this out as we go along, but it seems that each state has a king or queen; then whether we will see this in subsequent seasons or not, I think there is an idea that there is one vampire who looks over the whole of America."
Have you had a chance to catch I'm a Celebrity, Get Me Out of Here! Contestant Alec Baldwin dished on the show on his way out of the hard life in the jungle.
"The game was to say rice and beans and everything, and it was way better than that. There was food being sent in, cots undercover, swimming facilities [and] showers. I was like, this is it? They were doing our laundry for us after a while. And everyone was moaning and groaning about how bad it was. And I thought I was going to have to blowgun a monkey out of a tree and learn how to skin it and cook it and find out what parts you could eat. In some ways, some of these people, I believe, ate better than they did at home." Yeah, completely not like Survivor! What a joke!
Fan of the show "The Unusuals" on ABC? Sorry to tell you that the show wasn't picked up for a secondd season! It's finale will be the series finale, set to air tonight.
That's it for spoilers and television gossip for today! Check back tomorrow for updates. Have a favorite show that you are interested in reading gossip about? Let me know!
Topics: General | Comments Off on Spoilers Galore!
Comments are closed.