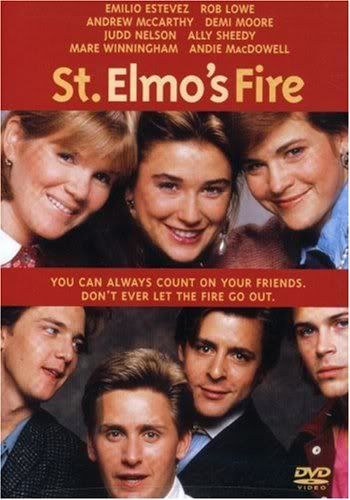 One of the original movies featuring the classic 80s brat pack, St. Elmo's Fire is known and loved among the group who just had to have "The Breakfast Club" as part of their life.
And ABC wants in on that action.
After strong interest from multiple networks, ABC landed the dramedy series project, exec produced by Schumacher, Topher Grace, Dan Bucatinsky and Jamie Tarses and to be written by Bucatinsky.
"More than anything, the movie evokes a feeling that doesn't go away," Bucatinsky said, "the feeling of bonding with your friends who become your surrogate family."
Added Grace, "It's the feeling of that time in your life when everything is possible but you can't figure out how to make it possible."
The series version will use the movie as a takeoff point and as an inspiration as it introduces six new friends: three boys and three girls.
What will remain is the setting — Georgetown and St. Elmo's Bar & Restaurant, now called St. Elmo's Bar & Grill, where the friends hang out. And if the set-up looks a little bit like "Friends," that's OK with Bucatinsky.
"I feel it is time to re-create 'Friends' in the hourlong genre and feel like this is the perfect opportunity," he said.
Hey, Topher. I appreciate the sentiment, but seriously? Don't compare this crud to Friends. It just won't happen.
Topics: General | Comments Off on St. Elmo's Fire: More Than Just an 80s Movie.
Comments are closed.