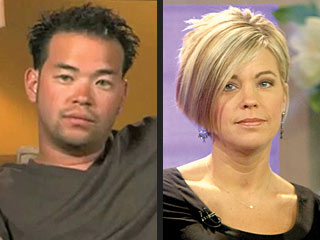 In a recent announcement that the network TLC made, they announced that the once ever popular Jon & Kate Plus 8 will once again be undergoing some major changes. But this time, the changes were not directly within their family.
Rather this show will go from Jon and Kate Plus  8 to Kate Plus 8.
Yes, you read that right. Jon Gosselin will no longer be a part of the show that gave him his fame in the first place.
People Magazine reported on the issue:
"Given Jon's recent antics, there was no way the show could continue to portray him as a doting Dad, not while all this other crap was going on," a source close to Jon Gosselin tells PEOPLE.
"Jon will still be seen on the show from time to time," the source adds."
I'm shocked here, actually. If anything, I never thought that the show would morph from both of the supposed doting parents to just Kate, who has clearly proved that despite her flaws and although she may be a little money hungry, she's clearly a wonderful mother.
There could also be some new things in the works for the mother. "
Kate Gosselin recently completed a stint as a guest host of The View, sitting in for Elisabeth Hasselbeck during her maternity leave.
Gosselin has also reportedly taped a pilot for a talk show costarring Food Network star Paula Deen."
I think that in those instances, Kate Gosselin would really flourish. She's clearly a wonderful parent, a very organized and neat woman, and a great cook. I'd love to see her step outside the realm of the reality television world, which tends to end up exploiting her children and hey– pursue some new things on her own.
What do you think? Kate Plus 8– will it be successful?
Topics: General | Comments Off on TLC Says "Bye Bye" to Jon Gosselin
Comments are closed.